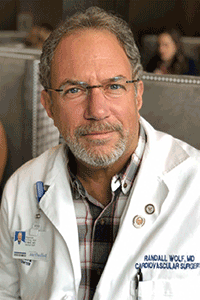 Randall Wolf, MD
Dr. Randall Wolf graduated from Indiana University School of Medicine and shortly after became a surgical innovator who pioneered a minimally invasive procedure for the surgical treatment of lone Atrial Fibrillation. He was the first North American heart surgeon to perform DaVinci cardiac surgery. He has served as Professor of Surgery, Ohio State University and Professor of Surgery and Biomedical Engineering, University of Cincinnati, and the inaugural Ethicon-Endosurgery Chair for Innovation in Surgery.
Dr. Wolf has served as Co-Director International AFIB Center of Excellence at the Indiana Heart Hospital and Afib Clinic at Memorial Hermann Hospital. Currently he is the Arrhythmia Specialist at Houston Methodist DeBakey Heart & Vascular Center and Houston Methodist Hospital. He has also served as President of both the International Society of Minimally Invasive Cardiothoracic Surgery (ISMICS) and the 21st Century Cardiothoracic Surgery Club and was the inaugural co-editor of the Innovations Journal.
Dr. Wolf has performed over 3000 Wolf minimaze procedures and demonstrated the procedure to heart surgeons worldwide. He has been Visiting Professor in 18 countries, including Oxford University, University of Tokyo and Peking University. He has delivered hundreds of invited lectures at hospitals, academic meetings and seminars and has over 100 peer reviewed papers and textbook/chapters.