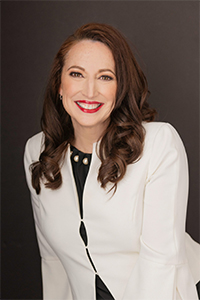 Eliz Greene, Livestream Host
Eliz was seven-months pregnant with twins when she suffered a massive heart attack. Her life changed, not only did she survive a ten-minute cardiac arrest, the cesarean delivery of her daughters and open-heart surgery, all on the same day, she also gained new perspective and passion for life. In the years since her heart attack she has dedicated herself to protecting her heart health and to inspiring others to pay attention to their health. She advocates for advancement in treatment and technology. Her life was saved through the use of Beating Heart Bypass and she currently uses an implanted loop recorder to diagnose her arrhythmia.
Eliz's humorous and energetic style makes her one of the top female motivational speakers and a dynamic hybrid event emcee. She built a successful business as a heart health speaker, journalist and author. Her articles and interviews have an international audience. Eliz's facilitated mastermind sessions leverage her business and entrepreneurial insights and high level moderation skills. Whether it is a heart health program or an entertaining stress management keynote, Eliz gets participants on their feet, dancing, and sends them home ready to do something different!
The author of four books including The Busy Woman's Guide to a Healthy Heart and a Top 50 Health and Wellness Blog, she was named a Top Ten Online Influencer on Stress. Eliz provides well-researched, down-to-earth tips and strategies to fi t into an already busy day. She has been seen on CNN, TNT, Lifetime and The Doctors, and works with leaders and high performance teams to limit the impact of stress so they can increase productivity and feel better.